"Premium approved...delivery urgent...hydrocracker
losing $235,000 per day...awaiting material..."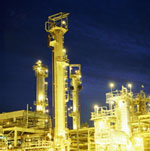 Global Contacts Inc (GCI) provides a unique service for industrial manufacturers looking for export opportunities to the Middle East. Cost effective purchasing services for Middle Eastern buyers of industrial products is a classic example. For more than 15 years we have supplied industrial spare parts, engineering solution and organized presentations for technology transfer for refineries, petrochemical, power and other processing plants around the world.

Our staff of specialists has hands-on experience in engineering, operation and maintenance for a wide variety of material. They understand the unique needs of international clients, as well as domestic and overseas manufacturers. These include inland freight, export preparation, crating, U.S. Dept. of State export licensing, ocean, air, even hand-delivered equipment plus on-site commissioning.

We hope you find this site informative and useful. If you have any questions or need any additional information, please contact us.